Sand and Gravel
All of Southern Landscape Supply's sands and gravels are sold by the ton. They are a perfect accompaniment for the foundation of patios, walkways, retaining walls, deck bracing posts, and driveways. Flower gardens and vegetable gardens benefit with the added moisture and weed control properties of these natural, permanent sands, stones and gravel mixes.
---
#57 STONE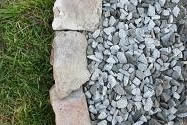 Price per ton: $32.00
Made by crushing larger stones in a stone crusher. Then sifting the stones away from the sand
Mainly gray stones with a hint of blue in some
Average size is between a quarter and a nickel
Excellent drainage properties
Common uses:
French drains
Retaining walls base
Driveway base, before asphalt or concrete is poured
Pipe bedding for irrigation
Gravel roads
CRUSHER RUN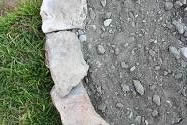 Price per ton: $28.00
Common uses:
Base layer for driveways and roads
Floor for sheds and parking pads
Base layer for fieldstone walkways and patios
DECO PEBBLES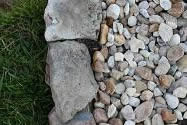 Price per ton: $83.00
Perfect size pebbles for landscaping around patios, walkways, decks and gardens
Approximately the size of a golf ball
PEA PEBBLES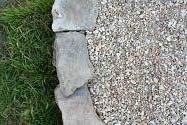 Price per ton: $78.00
Natural colored decorative stones
Offers permanent coverage
The pebbles help limit weeds and protect the soil from temperature extremes and also lend a natural look to your garden.
Common uses:
At front entrances to provide a professional look
For use with drainage projects
Under decks for esthetics and drainage
Flower gardens for moisture and weed control
Walkways
RIVER SAND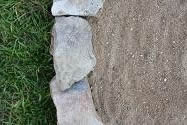 Price per ton: $36.00
A fine sand comprised of quartz particles
Completely removed of any unwanted materials such as rocks, sticks, dust
Economical over bags of sand
Common uses:
Mix with soil for better drainage
Level lawns
Athletic field renovations and golf courses
Sand boxes, playscapes and playgrounds
Add to mortar or concrete for fieldstone patios and walkways
SAND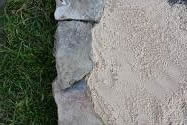 Price per ton: $40.00
A very easy to use, fine sand
Very economical sand
Common uses:
Sand boxes, playscapes and playgrounds
Volleyball courts
Base for above-ground pools
Add to mortar or concrete for fieldstone patios and walkways
GRANITE DUST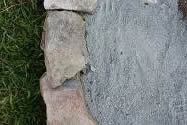 Price per ton: $30.00
Powdered granite, often referred to as paver sand
Common uses:
Foundation for stone pavers and flagstone patios
Used for any size job
SOD DRESSING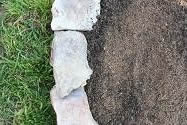 Price per ton: $37.00
Consists of 75% River Sand and 25% Compost
Helps to reduce thatch, along with aeration
Helps to improve drainage
Repeated use will help to alleviate problems with acidic, compacted clays
Put directly onto Bermuda grass or Zoysia grass as a topdressing
Works to level your lawn
TYPE 3 RIP RAP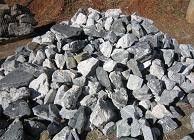 Price per ton: $37.00
Large rock that consists mainly of granite or limestone
Common uses:
Helps to protect rivers, creeks and ditches from erosion and scouring
Helps to stabilize deck supports
Dramatic landscaping
Ledging effects on sloped landscape
To Install:
Area needs to be compacted and stable before stone is applied
Install grass or mulch next to Rip Rap to help with stabilizing