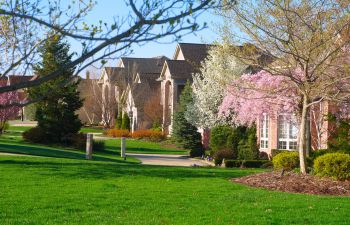 When it comes to wintertime in Georgia, there is just nothing like it. As seen already in the year 2020, we can go from a rainy 70 degrees on a Friday afternoon, to waking up to clear skies and a bitter 21 degrees the following Tuesday morning. With such drastic changes, it is often a challenge to know how to take care of your lawn and landscape during these Georgia winters. Your landscape can persevere this winter with just a little maintenance, and Southern Landscape Supply can partner with you to insure that your landscape materials thrive throughout the winter season and beyond. We are a family owned and operated business and use native Georgia soils in many of our plantings.
Below is a list of Winter Landscape Maintenance tips to keep your property fresh.
Rake your leaves. While many leaves have already fallen, with the rain that Georgia has seen this January, some people still find their yards covered in leaves. Decaying leaves that sit on your grass can cause fungus to grow during our warmer days, and they can damage your sod or grass.
Aerate and fertilize. During the wet and warmer weather in January, this is the perfect time to aerate your yard. The ground is soft and easy to penetrate. Pairing fertilization with aeration will prepare your yard for the nutrients it needs come spring.
Check on your sprinklers. If you have an underground sprinkler system, now is the perfect time to inspect your sprinkler heads. It is important to check that your sprinkler system has been properly drained so that the pipes do not burst during freezing temperatures.
Clean gutters and roofs. Leaves that remain in your gutters can cause a whole host of problems, including staining your home. When leaves sit in water within your gutters, they are essentially brewing and creating brown, dingy water. By cleaning your gutters, you can prevent staining on your roof and down the sides of your home.
Power washing. Now is the best time to have your house power washed. It is not warm enough for mold to grow on your siding or walkways, so why not clean up these areas now? Giving your home a facelift will bring life into your landscape.
Landscape lighting. Since winter does not allow for a great deal of beautifully blooming plants and trees, one way to add curb appeal to your landscape is through lighting. Outdoor lighting can accentuate features of your home throughout the entire year, including the dead of winter.
Prune your shrubs and hedges. Whether you do this yourself or you hire a landscape company, pruning your plants will clean them up during winter and allow them proper growth when spring arrives.
Southern Landscape Supply can help you this winter! Contact us today.