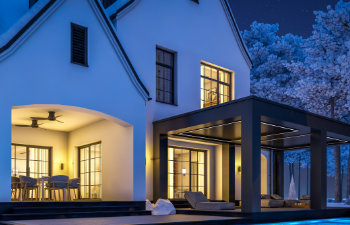 As winter approaches, the Southern landscape transforms dramatically, with its lush greens giving way to a winter wonderland. Sometimes, change is necessary to reflect the mood of the season. Timber is one choice you will be happy with when it comes to outdoor remodeling.
The Strength of Pressure-Treated Timbers
When it comes to withstanding the harsh winter elements, strength is crucial. Pressure-treated landscape timbers are known for their exceptional structural stability, making them an ideal choice for various applications:
Fence Posts
Winter winds and snowfall can significantly strain fences. Pressure-treated timbers offer the strength needed to support your fence and keep it tall all winter.
Retaining Walls
Prevent soil erosion and create stunning terraced landscapes with pressure-treated timbers. These timbers can handle the pressure, even in the face of colder temperatures and heavy precipitation.
Supporting Posts for Decks, Pavilions, and Trellises
Enjoy your outdoor spaces year-round by using these timbers to build or reinforce structures like decks, pavilions, and trellises. Their strength ensures that your outdoor retreat remains solid and safe.
Backyard and Patio Tables
For outdoor gatherings and entertaining, consider crafting sturdy tables using pressure-treated timbers. They'll withstand the cold and dampness, providing a reliable surface for outdoor festivities.
Garden Benches
Create a cozy spot for taking in the winter scenery with garden benches made from these timbers. Their durability ensures that your bench will endure through many seasons.
Steps and Stairways
Keep your outdoor walkways and staircases safe during the winter by constructing them with pressure-treated timbers. Their structural stability can reinforce a secure path.
Parking Bumpers
Timbers can create parking bumpers, which are essential for winter parking lots. These timbers won't crack or splinter when faced with icy conditions, helping to maintain the integrity of your parking area.
Raised Flower or Garden Beds
Elevate your gardening experience with raised beds made from pressure-treated timbers. These beds look great year-round and provide better drainage and aeration for your plants.
Planters
Winter doesn't have to be devoid of greenery. Craft attractive planters from these timbers to display winter-loving flora and add a touch of life to your outdoor spaces.
Pricing and Availability
Southern Landscape Supply offers individual and bulk pressure-treated landscape timbers for your convenience. If you're planning a winter landscaping project, don't hesitate to contact us at (770) 205-9393 for pricing details. Our team is ready to assist you in selecting the correct quantity of timbers to bring your winter landscaping ideas to life.
The versatility and strength of pressure-treated landscape timbers make them an excellent choice for winter landscaping in Cumming, GA. From fences and retaining walls to garden benches and planters, these timbers can withstand the season's challenges while enhancing the beauty of your outdoor spaces.
So, don't let the winter chill keep you indoors; invest in pressure-treated landscape timbers from Southern Landscape Supply and transform your landscape into a winter wonderland that you can enjoy year-round.