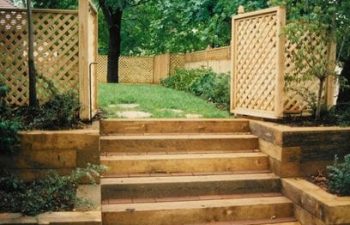 If you're planning to use a wood application in an outdoor project around your house or business, ensure that you choose pressure treated wood for optimal performance. Southern Landscape Supply offers 6X6X8 pressure treated landscape timber for all types of applications, such as:
Fence posts
Retaining wall
Soil erosion
Deck, pavilion or trellis supporting posts
Backyard or patio tables
Garden bench
Steps and stairways
Parking bumpers
Planters
Raised flower or garden beds
Why pressure treated wood is superior for outdoor applications
Pressure treated wood has been infused with chemical preservatives. These preservatives act to protect your wood and project from internal rotting, corrosion and insect infestation. This process helps protect the internal integrity of your wood. You will need to seal the outside of your pressurized wood to prevent your wood from external damage and decay. Your wood project also has the ability to be painted or stained to add visual interest, however you will need to wait a couple months for your wood to dry for optimal adhesion.
If you're interested in adding pressure treated landscape timbers at your home or business, contact us at Southern Landscape Supply for pricing on individual and bulk timbers for your project. We can even deliver anywhere in metro Atlanta. Call us with your zip code and we will be glad to give the rates for your particular job.
We look forward to seeing you. Come in and let us help you get started on your next project!