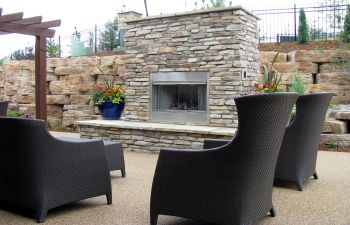 While mid-day in Georgia is still pretty warm, the evenings are definitely cooling way down. One of the best things to experience in the fall and winter months is sitting around an outdoor fire with family and friends and enjoying the amazing evenings we experience here in the South. An outdoor fireplace can not only transform the look of your landscape, but it can also transform the feel of your home's property by creating the perfect atmosphere for enjoying long fall and winter evenings.
An outdoor fireplace allows you to create a designated spot to relax outdoors without freezing during the cold months. Creating an atmosphere that is both inviting and useable is ideal because an outdoor fireplace is not a cheap project. Families who want to create a space outside that is welcoming and practical for use often have an idea in mind. From an outdoor fireplace that stands alone to an entire area that includes seating spaces, a patio area, and a fireplace – Southern Landscape Supply can provide the highest quality materials for your project needs.
One of the biggest advantages of having an outdoor fireplace as opposed to a firepit is that the smoke from a fireplace is directed up and away. The functional chimney directs the smoke upward so that those sitting around the fireplace are not constantly bombarded with smoke blowing in their faces and bellowing around them. Outdoor fireplaces can be enjoyed much like a firepit, cooking s'mores and roasting hotdogs in the fire while sitting around and just enjoying the peaceful atmosphere.
At Southern Landscape Supply, we provide many stone materials options to help you create the perfect outdoor fireplace. The elegant look of stack fieldstone makes it the ideal choice for many applications as it is very easy to work with, is sturdy enough for outdoor use, and can be chiseled and shaped for desired fit and aesthetics.
Contact us today to choose the right materials for your outdoor project.