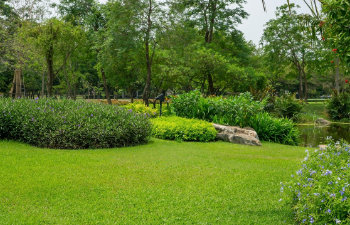 Every business is looking for an edge. Increase public awareness of your commercial property not only with an updated landscape, but something to make potential customers make note of your location. Many businesses depend solely on a clean and neat look to pull the public in. The trick is to make a positive, memorable impression.
Renewing a tired old landscape with a new look can positively impact your local market. It will make those passing by more likely to stop in or at least recall where you are. Commercial properties benefit from unique landscape features.
Plain Buildings
Many commercial properties are plain steel buildings or large structures that resemble a box. This puts more pressure on your landscaping to make an inviting entrance to your place of business. You want to give customers and investors a positive impression of what goes on behind your front door.
Artwork
A quick way to update and make your commercial building identifiable to the general public is to add a large piece of art to the landscape. Passing traffic will instantly recognize and remember your property. Unfortunately, art is not necessarily the most affordable nor durable. You may only be adding to your maintenance and insurance costs.
Boulders
Adding a choice boulder or collection of artfully placed large rocks will attract the eye to any landscape, similar to a large art installation at a fraction of the cost. Rocks do not require costly maintenance and are durable. Placed creatively in a grouping, large rocks will make a timeless statement.
Cost Effective
Landscaping costs can quickly get out of hand with routine maintenance. Keeping such expenses under control is prudent. Boulder installations are virtually maintenance free. And your insurance is not likely to be affected as it would be with a piece of expensive art.
Make Your Building Memorable
Attracting customers can be hard. Reduce a customer's stress about finding your particular building with a memorable installation. Attracting customers to your location will increase the volume of business.
A Memorable Landmark
Make your commercial property a memorable landmark. Southern Landscape Supply has a large inventory and access to a wide choice of boulders that will enhance any style of landscape. Have a chat with one of their designers about the possibility of adding a stone feature to your commercial property's landscaping.