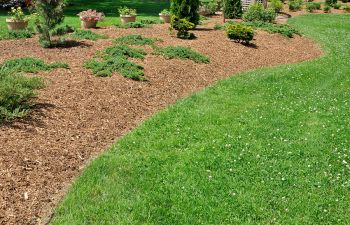 Proper lawn care can involve lots of work. Many North Georgia homeowners handle their own lawn care chores, but that mainly consists in mowing and trimming. Creating a vibrant and thriving lawn requires more. Here are three important tips many homeowners overlook.
Aerating
Aerating your lawn is often something Alpharetta homeowners overlook, but is an important aspect in keeping your lawn thick, green and growing. Much like humans, your lawn breathes, it takes and gives back with the atmosphere as it grows. By aerating your lawn, you are essentially poking holes in your soil, which can help improve drainage, reduce pesky weeds from growing and help your roots grow healthy and strong.
We at Southern Landscape Supply are here to help you understand the process, and why it is essential for a beautiful lawn. The biggest improvement the process of aeration will bring to your lawn is creating a space in the soil to allow all the important nutrients and water to reach all the way down to the roots of your grass. The best time to aerate in the southern climate is late spring; for best results, aerate when your grass is mowed and your soil is moist.
To Mow or Not to Mow?
You may not have realized that the time of day you mow your lawn can actually be making your life harder or easier. It may be tempting to break out your mower right away in the morning, before the heat of the day. But in fact, the best time to mow is actually mid-morning or late evening. Right away in the morning, your grass is still covered in dew, and while it is nice and cool outside, you will be working harder to get your mower to pick up the grass that is still wet.
To keep the cleanest and healthiest lawn in Johns Creek, we find that mowing when your grass has reached about three and a half inches shows best results. If you cut the grass too short, it can damage the roots.
Mulch Is Your Friend!
While it may be tempting to choose which mulch to buy based solely on aesthetic qualities, mulch does much more than add a pretty feature to your landscape. Mulch can serve as eco-friendly weed prevention. Mulch blocks light from the soil underneath, making it more difficult for weeds to grow. A thicker layer of mulch is ideal for areas where you don't want plants to grow, while a thinner layer can be more ideal for garden beds. Mulch isn't just for summertime; adding mulch in the winter can insulate your yard and cause less stress on your plants during the colder months.
For other lawn care or landscaping questions or needs, contact us at Southern Landscape Supply, or drop by our store in Cumming, GA.