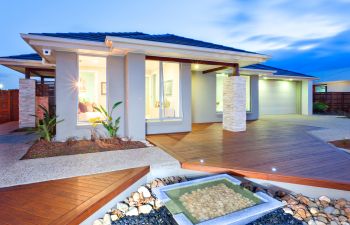 While swimming and spending hours out of doors may not be ideal during the winter months, now is the perfect time to start thinking about next summer. As you ponder the perfect gift to get your loved ones this holiday season, why not think long-term? Better yet, why not think about a gift that will keep on giving for years to come?
Creating the perfect outdoor space is a gift that your family will be able to use and enjoy year after year. If you have been dreaming about putting a pool in your backyard, building an outdoor kitchen, or expanding your patio space, now is the time to do it. By starting your project in winter, it will be finished and ready for use when the weather warms up in the spring and summer.
Custom Decking
Nothing says, "you're invited," more than a welcoming outdoor entertaining space. Southern Landscape Supply can provide timber materials that can turn a boring deck space into a showstopper. We have helped countless customers find the perfect materials to complement their homes and landscapes to add value to their homes. Whether you want to add on to a deck or create a new expansion in your yard, we can turn your dream deck into a reality.
Outdoor Kitchens and Pool Decks
Outdoor kitchens and pool decks are meant to add to the aesthetics of a home. These areas can be done on a small scale with a limited budget, or they can be elaborate projects full of all the bells and whistles. Choosing the best stone materials for your project is essential in creating an atmosphere where your family and friends want to gather together to create special memories.
Quality Landscape Materials
Southern Landscape Supply is Metro Atlanta's trusted source for the highest quality landscape materials. If you want to give a gift that will keep on giving for years to come, contact us today. Let us provide you with the materials you need to create the outdoor project of your family's dreams.