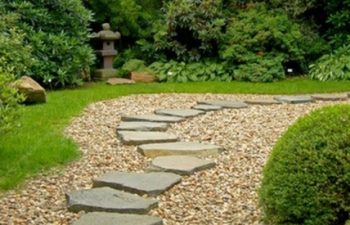 There are so many hardscape features that you can create from stone. From retaining walls to working fireplaces, you can design outdoor living spaces that are aesthetic and functional. This is your opportunity to purchase products that are affordable and effective.
With stone, you can build hardscapes on a fraction of the budget. Natural stones come in all shapes and sizes. There is no limit to your design ideas when you choose a versatile product from Southern Landscape Supply.
Retaining Walls & Steps
Elevation is one of the challenges that home and business owners face. You can overcome this issue with the construction arrangement of stones. Retaining walls will hold up dirt on an elevated landscape. You can also incorporate steps to make lower areas more accessible.
Steps built from stones create a natural pathway throughout your landscape. Your property will benefit from a boost in curb appeal based solely on landscape design. Let your imagination run free and Southern Landscape Supply will deliver the products needed to achieve your goals.
Walkways & Edging
Stones are an adaptive product you can use anywhere on your landscape or property. Many of our customers create beautiful walkways using natural materials. If you have low-lying flower beds are veggie patches, stones can create separation from the lawn and other areas.
Edging also defines specific areas, helping friends and family to identify no-go areas. For example, if you frequently entertain on the backyard lawn, keeping your guests confined to areas designed for entertaining is important.
Decorative Hardscapes
With stone, you can design your landscape with solutions that do not limit your imagination. Resistant to fire, water and weather, stone is one of the most enduring products available from Southern Landscape design.
Creating hardscapes from stone is less hassle in many cases. You can choose the design elements and make the material work for you. In addition, construction is often simpler with natural stone products. However, deciding which design elements work best for your landscape is always up to you.
Call Southern Landscape Supply today if you are interested in purchasing natural stone to enhance your backyard.