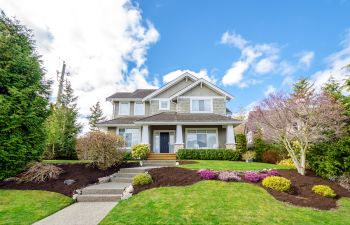 Whether you are just ready for spring or you are getting ready to put your home on the market, a landscape facelift can do wonders for adding to your home's curb appeal. You do not have to spend an arm and a leg or spend hours in yard work to boost your home's appearance. Paying attention to a few simple landscaping projects can go a long way towards a more attractive façade.
Refresh Mulch
Freshly laid mulch creates a beautiful appearance to your yard. Mulch creates definition in flower beds, along fence lines, around trees, and in natural areas. You will want to choose a color of mulch that compliments your home's outdoor color scheme to create an ideal curb appeal. Mulch loses its color and density as the sun, rain, and wind beat down against it over time. Refreshing your mulch each year will spruce up your yard!
Clean Your Hardscapes
If you have invested in a patio, pool deck, fence, window boxes, or pressure washing your driveway and walkways, don't overlook their appearance. Staining algae, staining leaves, mildew, and rust can detract from your home's curb appeal. By maintaining the appearance of the hardscape features on your property, you will reap the benefits of a more aesthetically pleasing landscape.
Trim Trees and Shrubs
Overgrown trees and shrubs detract from your home and your landscape. While a simple fix, cutting back limbs and branches on your trees, shrubs, and bushes can make a huge difference in the overall look of your landscape.
Southern Landscape Supply is a bulk supplier of mulch, sand, gravel, stone, and boulders for homeowners and business owners. If you want to update and beautify your residential or business property, we want to help you make a statement. We have a passion for excellent customer service. Contact us today.