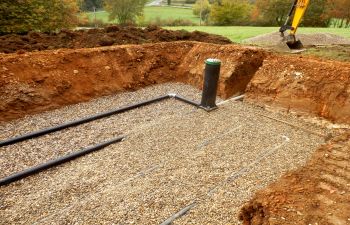 Did you have plans to visit the beach this summer? If you hoped to get to the beach and don't have the time or resources to get there, but still want to experience the cool, soft, soothing effects of sand between your toes, why not consider adding some sand around your home?
Southern Landscape Supply offers sand by the ton for your next sand project. Our sand is easy to use and fine. It is also a very economical option for various outdoor accents and areas around your home.
Beach Volleyball Courts
If you can't make it to the beach this summer, why not bring it to your home by building a beach volleyball court in an open area in your yard.  Standard dimensions of a court are 29'6" X 59'. These are measured from the outer edge of the boundary lines. If you're looking for a two on two court size, it is only 26'3″ X 52'6″.
You will want to check on how well your soil drains; you may need to overlay the area with a few inches of a one-foot thickness of pea gravel as a base with our soft sand over the top. You can estimate that it will require approximately 100+ tons of sand at a depth of roughly 12 inches if you're building a standard size beach volleyball court.
Southern Landscape Supply – Delivering Sand To You
Southern Landscape Supply has a fleet of trucks that will provide delivery to you. Call us with your zip code, and we'll be glad to give you the rates for your particular job. If you have questions, call us. We'd love to help you with your next project.