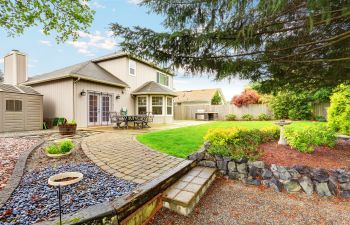 An uneven yard is something that many Georgia homeowners have to deal with. While some people can ignore the uneven terrain, many others are bothered by it. They do not appreciate the eyesore that dips into their front yard, they find it difficult to mow, and children find that running through uneven spots in the yard can cause them to fall or twist an ankle. Whatever your reasoning for wanting to level your yard, sand is one of the top choices for leveling your yard's uneven spots.
Filling and revitalizing uneven spots in your yard is a fairly painless process. The most important parts include getting good quality sand and knowing how to spread it. Below are steps to help you use sand to fill in uneven spots in your yard.
Mix equal parts sand and topsoil in a bucket or wheelbarrow. You will want the mixture to be well combined so that it spreads easily.
Shovel small amount of the mixture over uneven or low spots in your yard. You will want to shake the sand mixture over the area so that you have a "dusting" in your low spots. Be careful not to tamp it down so that it is compacted. You want the sand mixture to be ½ -1-inch deep over the entire area.
After dusting the spots you want to level in your yard, take a broom or a lightweight rake to spread the mixture throughout the area and level it out.
Let the area be. You will want to let existing grass grow up through the sand for 30 days before adding another ½-1inch top-dressing, if necessary. (Adding too much sand or too quickly applying another top-dressing too soon can suffocate your grass and prevent it from growing.)
All of Southern Landscape Supply's sand is sold by the ton. It is the perfect accompaniment for the foundation of patios, walkways, retaining walls, deck bracing posts, and driveways. Flower gardens and vegetable gardens benefit from the added moisture and weed control properties of sand. Used for leveling in uneven spots in your yard, sand can help you get your yard in shape.
Southern Landscape Supply delivers daily to residential and commercial properties. We look forward to helping you achieve your landscaping goals. Call us today!