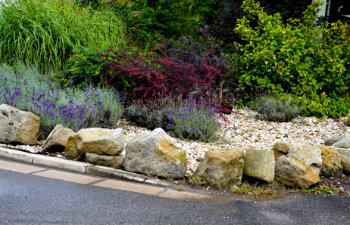 Have you had vehicles drive on your lawn? Is your home located on a busy street? Whether on purpose or by accident, cars or trucks driving into your yard can wreck your landscaping and endanger your family. Bollards are used in public areas to keep vehicles from entering parks or pedestrian areas but are not aesthetically pleasing for a residential area. A boulder border is a better choice to protect your yard, home, and family.
Large boulders are a perfect way to protect your yard from vehicle intrusion. When placed around your front yard and along the edge of your driveway, they can stop vehicles from entering your yard. Placing them about six feet apart can ensure that cars or trucks cannot pass between them and pose a deterrent to smaller vehicles like motorcycles. If a vehicle careens off the road toward your home, it will be stopped by the force of hitting one or more boulders.
Advantages of Boulder Bollards
Boulders are the ideal bollards for a residential home. Whether you live in a rural area with a septic drain field you want to protect, or on a busy urban street, boulders can keep cars out of your yard. You will want boulders that are tall enough that most vehicles are not able to drive over them without hitting the undercarriage. Boulders can be more effective than a fence for protecting your yard – many people place boulders on the outside of their fence to protect it from vehicle damage.
Boulder bollard borders are exceptionally functional for protecting your yard and home, but they also have some unique benefits over other barricades. These include:
Boulders are hefty and very unlikely to be stolen
Rocks will last a lifetime
Little to no maintenance is needed
Boulders are perfect for any season or weather
Big boulders are a beautiful addition to your landscaping
Even if they are hit, they are unlikely to break
Boulders are a natural option to border your driveway or around your yard. It could save you thousands of dollars in damage that could occur if a vehicle drove through your front lawn. You can also use boulders for other uses within your landscape design, from borders for your garden to natural seating around firepits.
Beautiful Boulders Available in Cumming, GA
If you want to protect your home with a boulder barrier, come see our team at Southern Landscape Supply. We are your source for beautiful boulders that can be used for many landscaping projects. Our landscape supply experts can help you choose the right stones for your needs, and we offer delivery to make it easy to get your boulders to your property. We deliver to most areas in Forsyth, Hall, Gwinnett, and Fulton Counties. Call our facility or stop by our facility in Cumming, GA, to inquire about purchasing boulders to border your property.