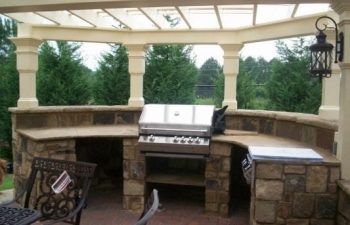 For those who have invested in an outdoor kitchen, you know that it was no small venture. A lot of time, preparation, and money goes into such a large outdoor project. You want to ensure that you protect your investment so that it lasts for a long time. However, you wouldn't believe how many people neglect significant investments, letting them deteriorate and become devalued over time. If you don't want to join the many who have invested in an outdoor kitchen only for it to become a place of deterioration, below are easy maintenance tips to keep your outdoor space functional and well taken care of.
Clean Your Stainless Steel
Almost all outdoor kitchens have stainless steel components. Stainless steel is the ideal material for outdoor use because it resists corrosion. However, you want to make sure that you are cleaning it frequently. Using simple soapy water or a stainless steel cleaner, follow the grain on your appliances and wipe them clean. Once clean, you will want to make sure that they are thoroughly dry to avoid water and rust stains.
Clean Your Countertops
As with any surface area, outdoor countertops collect dirt and grime. It is important to know that stone counters are susceptible to staining and becoming saturated with gross germs and mold due to their porous nature. You will want to wipe down your outdoor countertops after using your outdoor kitchen, and you will want to keep them clean when you are not using them. If something is spilled on your outdoor counters, make sure you remove the spills quickly to avoid stains setting in and becoming permanent.
Clean Your Grill
You created an outdoor kitchen for cooking and eating, so you want to protect your grill from outdoor elements. Make sure you cover your grill with an appropriate-fitting cover that is waterproof. This will keep water from seeping in and rusting your grill. You always want to use a hard-bristled brush to scrape off the grill plates after every use. Scraping off the plates while they are still warm (not hot) will allow the crusted-on food to be removed easily.
Contact Southern Landscape Supply for all your outdoor supply needs.