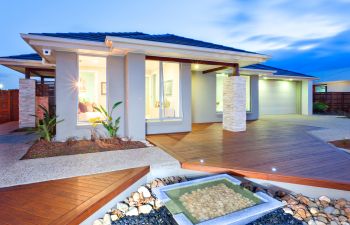 As cooler weather sets in, many homeowners in or near Alpharetta are creating winter wonderlands. This outside design makes for a cozy space to enjoy time spent with family and friends. If you are considering redesigning your landscape, you will need quality supplies.
At Southern Landscape Supply, we serve homeowners and landscape contractors. Our products include topsoil, timber, stone, mulch, boulders, sand and gravel. You can create all your winter wonderland features by working with a single supplier in Georgia.
A winter wonderland is an evergreen landscape design. Outside fireplaces, kitchens and seating areas remain attractive all year round. However, you will get the most benefit from these hardscapes when the weather cools down.
Seating with Heating
Nobody wants to sit out in the cold. By installing a fireplace or fire pit as a centerpiece in your seating area, you can provide warmth during winter nights. Cozy gatherings with family and friends over the holidays will provide memories that will last forever.
Southern Landscape Supply can deliver to multiple locations including Alpharetta, Ball Ground, Buford and surrounding areas. Call our offices today to find out if we serve your area. Supplies are also available for collection when delivery is not an option.
Outside Dining
Dining outside during the winter is an exhilarating experience. The cool air is refreshing but you don't want your guests to freeze. With a fireplace providing heat for your seating area, you can concentrate on providing food and drink from your outdoor kitchen.
The host often sacrifices time spent with guests due to being stuck in the kitchen. An outdoor kitchen allows you to provide catering without feeling left out of the conversation. Call Southern Landscape Supply today for all the products you will need to construct your new hardscape.
Temper the Winter Weather
While cool air is crisp and clean, you will want to keep your winter wonderland cozy and inviting. Structures such as walls and fences can create a barrier against harsher weather. We also recommend choosing light colors contrasted against darker colors to compliment the season.
If you need landscape or hardscape products in Georgia, reach out to the friendly folks at Southern Landscape Supply today.