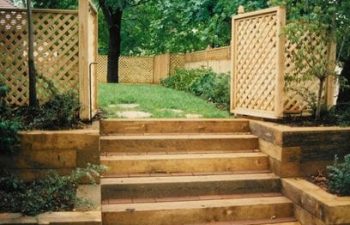 Outdoor projects have been more popular than ever since many people were quarantined in their homes during COVID-19. Home projects have been on the rise due to people having much more time at home, looking around and deciding that now is the time to complete projects that have been on their waiting lists. With summer here, outdoor projects are being done all over North Georgia. At Southern Landscape Supply, we have quality pressure treated wood for all of your outdoor wood projects.
Pressure treated wood has gone through a process that uses high pressure to force a solution of water and preservative agents deep into the lumber to help extend its useful lifespan. The preservatives that are infused into the wood protect against internal rotting, deterioration, and insect infestation. It is essential that you use pressure treated wood for outdoor projects, otherwise the wood will warp and rot from exposure to the weather and from being embedded in the soil.
Some of the most common uses for pressure treated wood in outdoor projects include:
Decking
Fence posts
Retaining walls
Steps and stairways
Trellises
Pergolas
Pavilions
Garden benches
Planters for raised gardens or flower beds
One of the most significant advantages of using pressure treated wood for outdoor projects is that it can be stained or painted to create the look that you are trying to create. Once the pressure treated timber has thoroughly dried, it will be ready to accept a coating of paint or stain. To test whether the wood is ready, sprinkle water onto the wood. If the water droplets are absorbed, the treated wood is ready for paint or stain application. However, if the water beads on the surface, you should wait a few more days before applying a coating.
If you have an outdoor project that involves wooden features, contact us at Southern Landscape Supply. We have pressure treated landscape timber that has been treated for optimal performance. Call today for pricing on materials for your outdoor project. We deliver anywhere within Metro Atlanta.