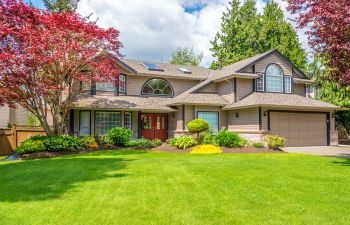 While many people are busy making New Year's resolutions to lose weight, drink more water, exercise more, and save money – there are some "non-traditional" goals that you could set. And, hey, maybe you'll actually achieve them this year!
If you know that you will not keep to a difficult resolution, why not make one that offers you something tangible and enjoyable in return? Your home is a reflection of you and your family, but is your home actually saying what you want it to? The first thing people see when they drive or walk up to your property is your landscape. Some people do not give much thought to the outer areas of their home, focusing on home improvements inside. However, your home's curb appeal is important. Updating your landscape is a fantastic way to increase your property's value while also creating outdoor spaces that are perfect for relaxing and entertaining.
The first thing you need to do is take a long look at your property. What areas would you like to update or enhance? Do you want to add bright colors with flowers, shrubs, and trees? Do you want to put in a hardscape like an arbor, fire pit, outdoor kitchen, or extend a patio? Do you want to add a stone path in your yard? Think about what you want – this is the time to dream and envision your perfect space!
The second thing you need is a plan. Start looking online by searching "outdoor landscape designs," and you will find thousands of ideas with pictures. It is helpful to see a design that catches your eye, and you can go from there to create a similar space in your yard. Create a rough sketch of your property that includes your house, driveway, large trees that are staying in place, and other areas that are paved and permanent structures. Once you have your sketch, make copies of it. Take these copies and start adding the design elements that you want on your "must-have" copy and your "I'm dreaming big" copy.
The third thing you need to do is take measurements. Take your rough sketches outside and measure everything. Measure the size and area of your current garden beds, natural areas, walkways, etc. From these measurements, you will be able to draw a design that is to scale.
At Southern Landscape Supply, we are a family-owned and operated business that strives to be the best landscape supply company in the metro Atlanta area. Let us help you update and beautify your property with our top-quality timbers, stone, sand, gravel, mulch, boulders, sod, and topsoils.