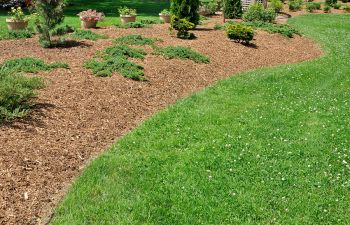 Creating a beautiful outdoor living space is not limited to those who have green thumbs and full weekends that are dedicated to pruning and playing in the dirt. Many people have chosen to make their homes in suburban areas with smaller yards, yet they still want to create an appealing atmosphere outside their homes. Understanding low maintenance landscaping materials and design can help all homeowners create a welcoming and beautiful space to surround their homes.
Many people have the desire to achieve a beautiful home exterior, but they do not have the know-how. For those who want an attractive outdoor area but for whom landscaping does not come naturally, there are low maintenance options that can help you create an ideal landscape. All that is required is a little bit of creativity, attention to detail, and choosing the correct materials.
One of the easiest options is to extend your patio space. You can extend your patio with concrete, pavers, or timber. With this space, you will have greater means of entertaining more people. Your space will be extended, and your grassy areas will be lessened. This will allow you to spend more time enjoying your outdoor space rather than maintaining it.
Adding on to your deck is an option for those who have an existing deck. You can add different levels to your deck, creating a visually appealing look that also extends your entertaining space.
Mulch is another method of improving your outdoor living space while also reducing your grassy area. Mulch is a fantastic investment in your hard because as it decomposes, it fertilizes your yard and prevents weeds. It is a low maintenance option because you do not have to mow or water it. You can create natural spaces in your yard that are set off and complimented by mulch.
Like mulch, sand and gravel can also add an attractive appeal to the façade of your home's exterior. Gravel can be placed in beds and never need to be replaced, which makes it as low maintenance as you can get!
At Southern Landscape Supply, we are here for all of your landscape needs. Whether you want to go all out and create an award-winning garden, or you are looking for an attractive low maintenance option, we are a family-owned and operated business that strives to be the best landscape supply company in the Atlanta area. Call today!