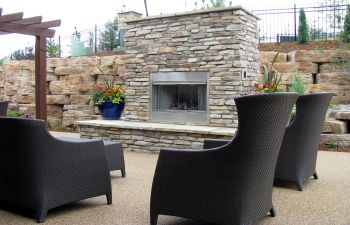 Warmer temperatures at the end of February had many people eager for spring to arrive. With the days getting longer, children and families can stay outside later to enjoy temperatures that tempt of warmer weather to come.
Being out in your yard should be an enjoyable place of comfort and enjoyment. Yet, if you do not have a space for your family and friends to enjoy, you may choose to avoid spending time in your yard. Landscape ideas include more than just trees, bushes, and flowers. Adding a hardscape is an excellent way to bring life to your outdoor space by adding practical and visually appealing features to enjoy.
Hardscape Ideas
When it comes to adding enjoyable hardscape features to your landscape, you have a variety of options.
Outdoor dining – An outdoor dining area can be as simple or elaborate as you like. It can include a patio area with permanent seating for outdoor meals with your family and friends. You can choose to have a pergola above your outdoor dining area for shade and visual appeal. If you have the budget, you can include an outdoor kitchen where you can do your cooking outside instead of using your indoor kitchen, which separates you from your guests.
Fire pit – One of the most popular hardscapes, a fire pit allows you to enjoy quiet evenings outdoors all year long. A stone fire pit can be a simple pad with a fire stove that sits in the middle, or it can be an elaborate area with stone design, seating all around, and a built-in stone pit in the center. This is a great area for families who enjoy roasting s'mores, grilling hotdogs, and making memories.
Water fountains – As a classic hardscape feature, water fountains are still popular additions to many landscapes. Many people enjoy the sight and sound of water flowing over rocks and stone. Water fountains can be custom designed to complement your landscape, offering intricate design and appeal. Those who enjoy gardening often find that a water fountain helps them create a dreamy atmosphere of relaxation and rest.
At Southern Landscape Supply, we are a family-owned and operated business that offers the best landscape supply materials homeowners need to update and beautify their residential properties. Contact us today!