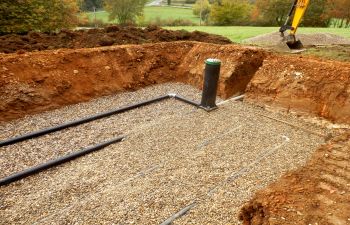 When you hear the word, "sand" what do you think about? Most people's first thoughts take them directly to the warm sand between their toes at the beach. However, sand is used and enjoyed in a lot more situations than just a relaxing time at a beach vacation.
Sand has many residential uses as well. If you're incorporating pavers into your landscape design, special paver sand can be used to level the surface below the pavers and also to fill the spaces between the pavers. Play areas are a great place to add sand as well. It provides your younger children with a soft playing surface to build, explore and have fun. Sand is also great when used as a base for playscapes and playgrounds. For older children, sand can be used to construct a beach volleyball court to enjoy.
If you're considering placing a peaceful Zen garden to your landscaping, you'll need sand to create the ripple of water effect throughout the scape. Sand is the perfect addition to a Zen garden's peaceful environment.
For more industrial projects, sand can be added to mortar or concrete. The concrete can be used for walkways, outdoor seating, steps and so much more. Sand is comprised of fine particles of rock and it is valuable for placing in areas to promote healthy draining around wet areas. Sand is commonly used on golf courses to add a thin layer or top dressing to control thatch build up. It is also used to level low spots in turf areas.
Southern Landscape offers a wide variety of sand and gravel. If you have questions or need help with deciding which is right for you, contact us today. We're happy to help with your landscape needs.