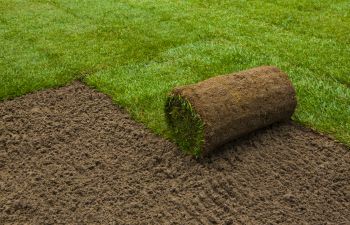 It is difficult to think of anything fun to do outdoors during the hot and humid Georgia summers that does not involve cool water. Swimming, boating, skiing, and tubing down a river are great ways to beat the heat in Georgia throughout the summer. However, many people also find that summer months provide an excellent opportunity for moving. School is out for summer break, your schedule is a little more relaxed, and there are often more houses on the market from May-September. While moving into a new home may be ideal during summer, if you are moving to a new home that requires landscaping, or if you are moving into a previously owned home that needs updated landscaping, it is essential to understand the intricacies of laying sod during summer.
Summers in Georgia are hot, humid, and often very dry. While there are types of grass that thrive in the summer heat, getting sod to put down roots can be a challenge during hot months. Here are steps to take to help ensure that your sod successfully produces a lush lawn:
Prepare the Soil
Your yard needs to be adequately graded to avoid sunken areas and gullies in the sod. You will want to rototill the area where the sod will be laid to break up the soil. Remove any rocks or clots in the soil. These steps will ensure that your sod takes properly to the soil.
Laying the Sod
The best time and temperature to lay sod during the summer months is during the early morning or late evening when the heat is lower, and the sun is not beating down. Thankfully, there is a lot of daylight during Georgia summers, so this is easily accomplished.
Caring for the Sod
Water, water, and water your new sod. It is imperative that you water your sod daily during the first month after it is laid. The heat of Georgia summers will quickly dry out the sod, killing its roots and blades of grass. You do not want to waste the money and time you have spent by not caring for your sod correctly. Make sure you water it daily!
At Southern Landscape Supply, we have partnered with Sumter Sod for all your sod needs. Call (770) 403-1581, and ask for Chuck.