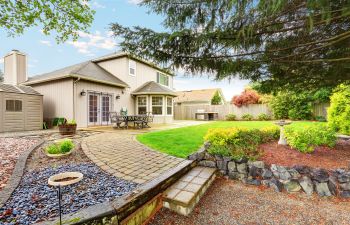 Not all landscapes are designed as visual features of a property. If you want a functional outdoor space, incorporating the right components is important. Hardscapes can provide areas to relax, dine and play, depending on your personal or family needs.
The type of hardscape features that you use are just one part of the picture. The location of each installation can dictate how you enjoy your landscape. The orientation of your property is an important consideration, as comfort will depend on light levels and shelter.
Outdoor Dining
When you are dining outdoors with family and friends, the location of your kitchen can make serving a chore. One solution that more homeowners are embracing is the outdoor kitchen. This functional feature will allow you to cook in the garden, while still engaging in all the conversation and fun of the event.
Outdoor seating that is designed for enjoying food and drinks needs special consideration. If you locate your seating area in the shade, friends and family may complain about being cold. However, open areas are not always an ideal alternative. It is important to understand where your garden gets the best sun while considering shelter from the wind and rain.
Blending Features
If you do have visual elements in your landscape, blending any additional hardscapes is often challenging. The wrong placements that make the space look odd or asymmetrical. Color and design are also important considerations for creating a seamless aesthetic.
Balancing these considerations takes an eye for detail and design elements. Hiring a professional landscaper is therefore recommended when adding hardscapes. You will also need a reliable supplier who can provide high quality products.
Southern Landscape Supply
At Southern Landscape Supply, we serve residential, commercial and landscaping customers. If you or your contractor needs mulch, sand, gravel, stone or boulders to complete an outdoor living space, we can provide solutions. Since 2003, our team has helped customers bring their functional and aesthetic visions for perfect gardens to life.
Call Southern Landscape Supply today to inquire about landscaping products and costs. We look forward to providing you with excellence in service and delivery.