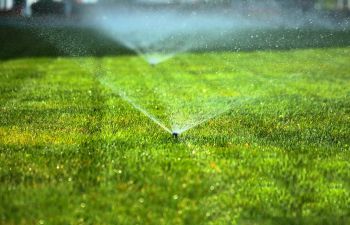 Spring is here, and even after a mild winter in North Georgia, most everyone is happy to shake off the winter blues and get outside. Whether you have your lawn professionally treated or you handle your own lawn maintenance, it is important to think about the safety of the products that are put on your yard. Most fertilizers contain natural elements like nitrogen, phosphorus, and potash that are generally non-toxic. If your children and pets play out in the yard, help problems will rarely occur. However, there are some things to know before you deem your yard safe for play.
Lawn chemicals can vary widely in their child and pet safety. For homeowners who enlist the help of a lawn maintenance company, they should notice that a sign is posted in their yards after treatment. This sign warns homeowners that children and pets should keep off the grass for at least 72 hours. Most lawn chemicals take about 48 hours for them to be absorbed into the grass and soil. Fertilizers labeled as "organic" typically require little wait time after application. It is important to speak with your lawn maintenance company so that you know the ingredients and chemicals they use on your yard. If you handle your own lawn care, read the package labels carefully. Follow the directions and wait for your lawn to dry completely before allowing your children or pets on the grass.
If you are a dog owner and your dog needs to be able to have access to your yard to take care of business, it will be beneficial to everyone involved if you create a small space that is not treated. Having a small space with easy access will allow your dog to go to the bathroom in a safe spot in your yard while the rest of your lawn is drying out after chemicals have been applied.
Children, dogs, and cats love to play in the yard. If your grass and plants have been sprayed with a chemical, the residues can end up all over their clothes, skin, fur, and in their respiratory and digestive systems. As you look forward to enjoying your yard this spring and plan for outdoor projects, remember to take the necessary steps to protect those you love.