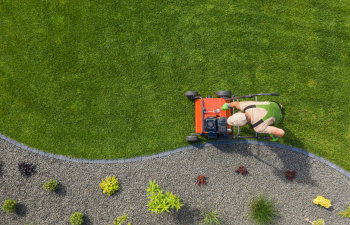 Landscaping is an essential aspect of property ownership that can significantly increase the value of your home. A well-maintained and designed landscape can dramatically impact your property's aesthetic appeal, leading to higher home values. Below are a few reasons why landscaping increases your property value and how Southern Landscape Supply can help you enhance your property's landscaping to maximize its value.
Curb Appeal
Curb appeal is generally the first impression potential buyers have of a home. A well-manicured lawn, healthy trees and shrubs, high-quality mulch and colorful flowers can make a lasting positive impression on buyers. In addition, an attractive landscape can improve your home's overall look and feel, making it more appealing to buyers. Investing in your home's landscaping can set it apart from other homes in the area, which can translate to higher property value.
Energy Efficiency
Landscaping can also help you save money on your energy bills, which can appeal to potential buyers. Properly placed trees can provide shade, reducing the direct sunlight entering your home during the summer and lowering cooling costs. Trees can also help block harsh winter winds, reducing heating costs during the winter months. Increasing your home's energy efficiency can make it more investment-worthy to potential buyers and increase its value.
Environmental Benefits
In addition to financial benefits, landscaping can provide several environmental benefits, adding value to your property. Trees, shrubs and other plants absorb carbon dioxide, reducing greenhouse gases in the atmosphere. They also provide habitat for birds and other wildlife, which can contribute to a healthier ecosystem. By incorporating garden beds filled with native plants into your landscaping, you can create a low-maintenance landscape that benefits the environment, making your property more valuable to environmentally conscious buyers.
Outdoor Living Spaces
Outdoor living spaces are becoming increasingly popular, with many homeowners looking to expand their outdoor living space. By incorporating features such as patios, decks, garden benches and outdoor kitchens into your landscaping, you can create functional outdoor living spaces that appeal to buyers. These features can provide additional living space and add value to your property, making it more attractive to potential buyers.
Increase Your Property Value with Landscaping
Southern Landscape Supply offers various quality landscaping materials, including mulch, premium topsoil, sand and gravel, timbers, boulders and stone. With our landscape materials, you can improve your property value and enjoy a beautiful, functional landscape that appeals to future buyers.
If you want to increase your property's value, investing in your landscaping is an intelligent choice. Contact Southern Landscape Supply today to schedule a consultation.