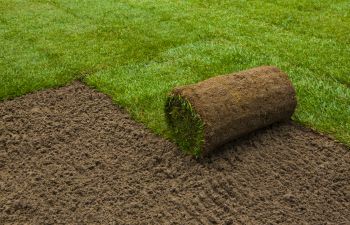 This summer is Georgia has been characteristic of all other Georgia summers, HOT! While July hosts the highest average temperature for Atlanta, August's average temperatures are only one degree less than July's. In addition, August typically has less rain than the other summer months. With these high temperatures and low precipitation in August, it can be brutal on your sod. If you're concerned about the health of your sod, there are steps you can take to help it survive and even thrive through this Georgia heat.
Irrigate
It's obvious that your lawn will require water to survive the summer stress, but there are specific things to consider when watering. Proper watering includes a regulated watering schedule. Early morning irrigations are best to avoid evaporation. As a general rule, your sod should receive about one inch of water per week. Your lawn can get this either through rainfall or irrigation methods. Don't overwater your lawn. Overwatering does not allow your grassroots to absorb an adequate amount of oxygen, leaving them vulnerable to disease.
Mow
In hotter months it's essential to achieve a proper mowing height. Your grass should be kept at 2-3 inches in height. Ensure that your mower blade is sharp enough to avoid the tearing of your grass, leaving it vulnerable to disease.
Southern Landscape Supply For Your Sod Needs
If you're interested in adding sod to your lawn or landscaping project, call Southern Landscape Supply. We have partnered with Sumter Sod for all of your sod needs. If you have questions about landscaping, call us today, we'd love to help.