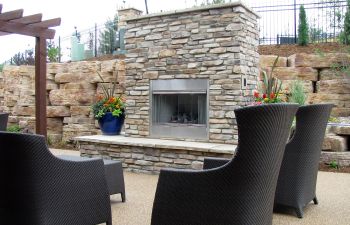 Creating an outdoor living space can be a project you do all at once or piece by piece. Working with color, texture and a combination of natural materials like stack fieldstone, river rocks or wood timbers, you can create a true living space outdoors to add to your family and social life.
Patios Grow into Kitchens with Stone
You already have a patio area with a table and some seating. Now is the time to extend that patio into a cooking/dining area that lets you create and enjoy your favorite foods right outside all evening. Stack fieldstone can create walls and river rock is beautiful for building counters and serving areas. Create an island in the kitchen area with some tall bar stools so that others can join in.
Pool Time Gets Comfy with Expansion
Everyone enjoys being out by the pool when the weather heats up. So why not expand your pool area and create room for a cabana, extra seating for conversation and a shower to rinse off the chlorine?
Choose our 6x6x8 pressure-treated timbers as corner posts and drape them with colored silky curtains, either tied or free-flowing, to build your custom cabana. Stack fieldstone can add some dimension to the walls if you like.
Fire Pit or Fire Place?
A small fire pit in the yard can bring some opportunities to relax with friends and family. However, as you consider a backyard makeover, give this a thought. You can build a beautiful fireplace with river rock.
Combine a full-fledged, two-sided fireplace with your kitchen area on one side to try new ways of cooking over an open flame or stretch out on some comfy furniture with a glass of wine and some good conversation or music on the other side.
When you're looking for landscape supplies in the Atlanta metro area, call Southern Landscape Supply at (770) 205-9393. We have everything you need for your landscaping project. From organic topsoil to boulders and so much in between, we have the landscape materials you want, including mulch, gravel, sand, stone, rock and pressure-treated timbers. You can even have your landscaping materials delivered throughout Atlanta and the surrounding area.