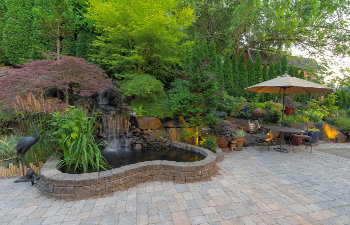 A beautiful landscape can transform your property into a captivating oasis, making you the envy of your neighborhood. Whether you want to add a touch of natural elegance or create functional hardscapes, boulders, stones, and timber are versatile components.
At Southern Landscape Supply in Cumming, GA, we specialize in providing top-quality products to meet your landscaping needs. Let's explore how boulders, stones, and timber enhance your landscape.
Boulders
Boulders are nature's masterpieces, adding a sense of grandeur and strength to any landscape. At Southern Landscape Supply, we offer a wide selection of beautiful boulders, and our knowledgeable staff can support you in choosing the materials that perfectly complement your design vision.
Boulders can be strategically placed from accent pieces to focal points to create a visually stunning and cohesive landscape.
Stones
Stone structures bring a timeless charm to your outdoor space. Stack fieldstone and river rock are excellent choices for a variety of applications. The elegance of stack field stone makes it suitable for fireplace surrounds, patios, retaining walls, and water features. With Southern Landscape Supply, you can get a premium-quality stone at a fair price, making your landscaping dreams within reach.
Stack field stone is aesthetically pleasing, practical, and easy to work with. You can shape and chisel these stones to achieve the desired fit and look, making them a versatile option for indoor and outdoor projects.
Whether you want to add a touch of rustic beauty or create a more refined atmosphere, our quality field stones will bring your vision to life.
Timber
Pressure-treated landscape timbers from Southern Landscape Supply provide critical structural stability for various landscape applications. From fence posts to retaining walls, garden benches, and raised flower beds, these timbers are a durable and reliable foundation for your landscape projects.
The pressure treatment ensures that the timber can withstand the harshest weather, making it suitable for outdoor use and long-lasting. Whether you're building a trellis, a deck, or a set of steps, our 6x6x8 pressure-treated landscape timbers are a practical choice that combines functionality and aesthetics seamlessly.
Customer Service and Delivery
At Southern Landscape Supply, customer satisfaction is our top priority. Our warm and knowledgeable team is always ready to help you choose the best products for your outdoor space. If you have specific requirements and the item is out of stock, we will go the extra mile to source suitable materials for your needs.
Our delivery service is also reliable and punctual, ensuring that your chosen boulders, stones, and timber reach your doorstep hassle-free. We understand the significance of timely delivery for your landscaping projects and take pride in providing exceptional service.
Elevate your landscape with the natural beauty of boulders, stones, and timber from Southern Landscape Supply in Cumming, GA. Whether you want to create a serene garden, a functional retaining wall, or an inviting patio, our high-quality products and dedicated service will help you bring your landscaping visions to life.
Visit us today and take the first step towards a breathtaking outdoor space you can be proud of.