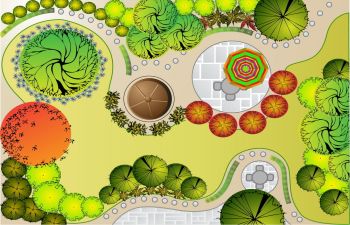 There seem to be two types of homeowners:
Those who want a "postage stamp" yard that requires the least amount of maintenance possible.
Those who want plenty of space between their neighbors with an expansive yard for playing, hanging out with family and friends, and creating an oasis.
Knowing which type you are definitely helps when choosing a new home. However, many people who fall into "Type 2" fail to understand the drawbacks that a large yard may present itself with. An expansive landscape looks incredibly bare and unattractive if it is not well designed and maintained.
Hardscapes are one way that many homeowners spruce up their yards. Adding a physical feature such as an outdoor kitchen, pool, extended patio area, large firepit area with pad, or a pergola is a fantastic option for adding visual appeal to any yard.
Another way to create beauty in a large yard is by adding garden beds, large trees, and natural areas that will provide color and shade throughout the year.
Before you either begin a massive landscape project or just choose to give up, step back and take in your entire property. Take pictures with your phone or camera of your entire yard from different angles, and then study these pictures so that you can get an idea of what you'd like to accomplish with landscaping.
At Southern Landscape Supply, we offer the highest quality supply of landscape materials. We are a bulk supplier of quality materials for homeowners who want to update, re-do, and beautify their residential properties. Our landscape materials include:
Boulders
Mulch
Sand and gravel
Sod
Stone
Timbers
Top Soil
If you are ready to take your landscape from drab to fab, contact Southern Landscape Supply today. Our quality materials can make any yard project stand out and come to life.