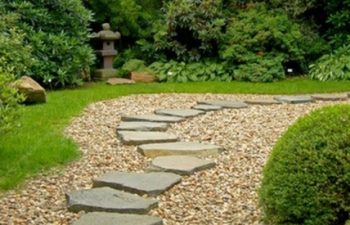 If the April showers brought you more than just May flowers, it might be time to make a change. If the rains in April caused your drainage in May to be compromised, Southern Landscape Supply could help you. You should not have to stress and become frustrated with your excess water on your landscape. Improper drainage causes harmful effects on your landscaping. Pools of water on specific areas of your landscape can cause you to lose mulch and plants. Standing water in your lawn can also be a breeding ground for pesky mosquitoes.
Dry Creek Beds – A Possible Poor Drainage Solution
If you have poor drainage at your house, you may want to consider the efficient method of creating drainage with the installation of a dry creek bed. You can do this yourself by looking for natural channels where rain typically flows. Shape your dry creek bed to resemble an actual creek and flowing in the pattern of the water. Next, you'll need to dig a trench and tamp the ground firmly while angling the sides. Using landscaping fabric, line the inside and cover the bed with 1/2″ of crushed pea gravel and sand. Place your most massive rocks first and then place small, smooth stones along the path of the dry creek bed.
If you're ready to install a dry creek bed at your home, call Southern Landscape Supply. We are a bulk supplier of mulch, sand, gravel, stone, and boulders. We'll supply you with your much-needed supplies for your dry creek bed and all your other landscaping needs.
Call Southern Landscape Supply today. We'll even deliver your supplies right to your home or commercial property.