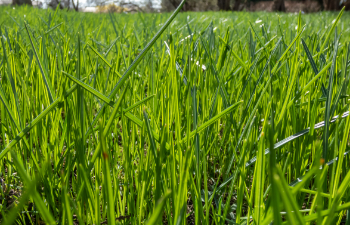 There are many factors to achieving a gorgeous lawn and maintaining it. For many homeowners, obtaining the green, lush lawn that they desire can be a struggle. Poor soil, erosion, thatch, and other factors all contribute to the health of your lawn. One of the organic methods for improving your lawn is topdressing. Could this technique help you create a healthier lawn at your home?
What Is Topdressing?
Soil feeds lawns and is one of the most critical factors for healthy grass and other plants. Topdressing is a lawn treatment that adds soil on top of the grass. While this may seem odd, it is a method that has been used for over a century, dating back to when golf courses were first built in Scotland. It is an organic way to improve the health of grass while providing a level lawn.
Topdressing involves adding soil, sand, or organic (compost) material to the top of your lawn. The type of topdressing used depends on the composition of the soil being treated. In Georgia, many lawns are planted in clay soil, which can benefit from adding sand as topdressing to improve drainage and soil quality.
Benefits of Topdressing Your Lawn
Almost any lawn can benefit from topdressing once or more times per year. It is an organic option for improving your grass's health and addressing issues contributing to poor lawn growth. Spreading a quarter or half-inch of topdressing over your grass can have the following benefits:
Decrease thatch. Thick thatch can smother your grassroots. Topdressing is one way to break down thatch and improve air and water flow into the soil.
Level your lawn. If erosion or other factors have created an uneven lawn, topdressing can fill in the dips for a level yard.
Improved drainage. Adding sand topdressing can improve drainage and soil composition for clay or compacted soils.
Add nutrients. Topdressing can improve the quality of your soil by adding organic nutrients. This can feed your grass and help it appear healthier and greener.
Germination. Topdressing can help with grass seed germination, which is why it is often used in conjunction with overseeding.
Topdressing is usually best performed in the spring or fall. You can fertilize before adding the sand or compost, but it is optional. After adding topdressing, your lawn should be thoroughly watered. Avoid mowing for about 7-10 days after applying your sand or other topdressing.
Topdressing Delivery in Atlanta, GA
If you have a lawn that is struggling, it may be time to try topdressing to help it revive. If you live in the greater Atlanta, GA metro area, Southern Landscape Supply can deliver sand topdressing to your location. Our top-quality sod dressing and river sand are excellent topdressing options for new sod or lawns with clay soil. To learn more about our topdressing options or to schedule delivery, contact our landscape supply team. Call our center in Cumming, GA, for information on our topdressing products.