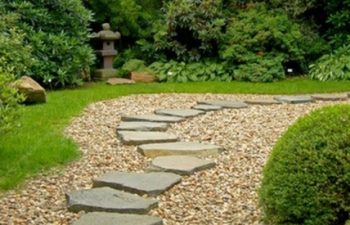 Creating a design for a landscaping project is a chance to let your imagination run wild. Hardscapes like patios, outdoor kitchens and built-in seating areas are selected based on your personal preference and intentions for the outdoor space. For example, you might choose a low-maintenance garden with a few hardy plants or an intricate selection of blooms. Some enjoy a well-manicured lawn, while others favor an open space for children to play.
Seemingly small design choices can be pivotal in bringing your aesthetic design together. Choosing the right material to border flowerbeds and indicate pathways is essential. Soil surfacing material must look good, provide sustainability and remain functional. Southern Landscape Supply provides a range of gravels and mulches to suit your needs.
Why Choose Mulch?
Mulch is organic and it decomposes over time, adding nutrients to your garden. Wood chip mulch naturally has a variable brownish-red color or is available dyed in a uniform red, brown or black. With excellent water retention and soil insulation properties, mulch is well suited to keeping plants hydrated and healthy in harsh weather.
Varieties like cypress mulch are soft and do not shift easily, making it ideal for playground areas. Hardwood mulch prevents soil erosion and is a good covering for slopes and hills.
When are Stones a Better Choice?
Mulch's ability to retain water can also be its drawback. Proper drainage is essential for some landscaping designs, particularly on pathways or around French drains. Stones are an ideal solution for areas where high moisture is detrimental. In addition, stones are incredibly low-maintenance as they do not decompose and actively deter insects and pests.
Stones come in a range of colors to complement and contrast your landscape design. For example, river rock gives a soothing blue-gray tone, while egg rock comes in a contemporary rustic brown. Pea pebbles are a long-lasting all-rounder, great for walkways, flower gardens and under the decking.
See the Range at Southern Landscape Supply
If you are still unsure which materials are a match for you in appearance and functionality, Southern Landscape Supply is here to help. We have many years of experience meeting our customer's landscaping needs in the metro Atlanta area. Our expertise can help you perfect your landscaping design down to the smallest detail.
Contact Southern Landscape Supply in Atlanta today with your landscaping queries.