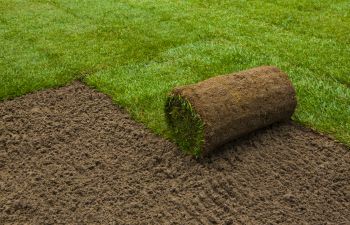 Did you take our advice and lay sod in your yard last fall? Now that spring has rolled around, how is your lawn looking? If your sod was watered correctly, we're confident it's rooted by now, but if you want to check for yourself, you can. You can check by lifting a corner of a section (if you can even find one at this point) to see if it is secure.
It would be best if you were watering your sod with about an inch of water each week. Avoid overwatering by watering too frequently. It is better to give it one long watering so it can soak deep into the roots.
When your grass blades are 4 inches tall, you can begin to mow. You can find a guide here for proper height for mowing your particular species of grass. If you mow your lawn correctly, you can create a low-maintenance, drought-tolerant lawn. Proper mowing also discourages undesirable grasses and weeds, while encouraging your desired grass to flourish.
It may also be time for some fertilization of your sod. Generally, newly installed sod will profit from a fertilizer application after about four to six weeks of growing. You'll also want to limit heavy and concentrated activity on your new grass, if possible. Four weeks is a good amount of time to wait before heavy use of your new sod.
If you have questions about our sod at Southern Landscape Supply, give us a call or stop by. We have partnered with Sumter Sod for all your sod needs.