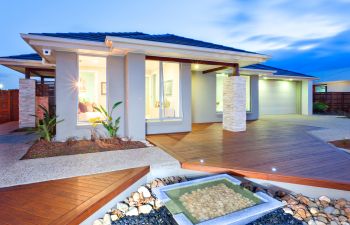 The term "hardscapes" is unfamiliar to many people. Many people think of hardscapes in a landscape as a specific feature, such as a water fountain. However, hardscapes are much more than a single feature. With a bit of imagination and the correct materials, you can create a beautiful hardscape that reflects your personality and the needs and desires of your family.
Creating a Hardscape Feature for Your Yard
There are many different ways to create a hardscape in your yard. In essence, hardscapes are a matter of aesthetics and functionality. The first thing to consider is how you want to use your hardscape. It is going to simply be an aesthetic feature to draw attention to itself, or will you utilize it? Is it a practical feature or merely ornamental? Whether you will use your hardscape design for entertaining guests or visual stimulation, the design of your hardscape is essential.
The first step you need to take is to calculate the amount of space you have to work with. Next, you will want to consider the footprint of your desired hardscape. For most facades, a cluttered landscape is unattractive. Clean lines, "white space" (also known as "open areas"), and the ability to utilize the rest of your yard are essential. Many people choose to hire a landscape designer who can help with the placement and proportion of hardscape design to create a beautiful design for your yard.
Trusted Supplier
Southern Landscape Supply is a family-owned and operated business that serves residential and commercial properties in North Georgia. We are North Georgia's premier provider of landscaping materials and premium organic planting soils. Southern Landscape Supply helps home and business owners update and beautify their properties with the highest standard in materials.
Contact us today for your hardscape design needs. We supply timbers, stone, gravel, sand, boulders, mulch, and premium topsoil to help bring your landscape ideas to life.