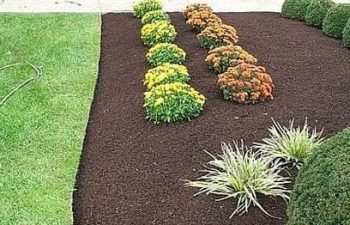 With cooler temperatures finally settling in here in Cumming, GA, now is the perfect time to think about taking care of your plants this winter. Mulching around plants in autumn can help protect your plants all winter long. Mulch can prevent soil erosion, subdue stubborn weeds, and protect plant roots from moisture loss and shifts in temperatures.
Right now, we are desperate for rain in the greater Atlanta area. As cooler temperatures move in, the air will also become drier. It is important to baby your plants by laying down a good, thick layer of mulch to keep them healthy in the fall and help them survive through winter. Because we have not received a decent rainfall in almost two months, it is advised that you thoroughly water your plants a few days before you spread mulch around them. Allowing any excess moisture to absorb into the soil will help prevent fungus and decay from occurring by spreading a thick layer of mulch over wet ground.
At Southern Landscape Supply, we offer a variety of excellent mulches for ground cover around plant beds. The different looks and colors of our mulch are designed to complement every home's outdoor décor. Our love of landscaping drives our passion for excellence in both products we sell and in customer service. Southern Landscape Supply is a bulk supplier of mulch and other natural materials for homeowners to update and beautify their residential properties.
If you are planning to prepare your home's landscaping for winter, now is a perfect time. With fall temperatures setting in, not only is it more enjoyable to be outside working in the yard, but it is also the prime time to think ahead. Don't let the plants you invested in be left to suffer this winter. Call us today to order your supply of quality mulch.