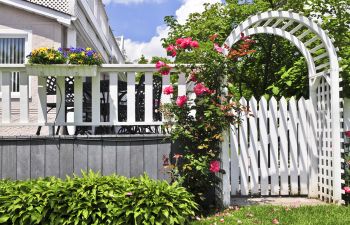 Summer is a great time to have a trellis added to your home or business. A trellis offers you an architectural structure that adds both interest and beauty at the same time. It is made from interwoven or intersecting pieces of wood, bamboo or metal. This grid-like pattern is meant to support and display climbing plants or shrubs.
Timbers For Your Trellis
A wooden trellis adds a distinctive natural look to your trellis design. The wood accents all the other elements of your landscape at your home or business. To build a wood trellis, you will need pressure treated landscape timbers. Southern Landscape Supply offers 6X6X8 pressure treated landscape timbers that will assure you with the critical structural stability for a long-lasting trellis.
Accenting Your Trellis
After you build your trellis, you will want to choose the right shrubs or plants to do their job of climbing and beautifying your garden or yard. The Handyman's Daughter gives advice on "How to Choose the Best Climber Plants for a Trellis."
Common Flowers Plants And Vines For A Trellis
Morning Glory
Bougainvillea
Climbing Hydrangea
Blue Moon Wisteria
Jasmine
Trumpet Vine
Coral Honeysuckle
Moonflower
Wisteria
Virginia Creeper
For pricing on individual and, bulk timbers call our office at Southern Landscape Supply. Our pressure treated landscape timbers can be used for all types of landscape applications.
Southern Landscape Supply is North Georgia's Premier provider of premium organic planting soils and landscaping materials for your home and business. Come see us today.